Who Are Nancy and Joey?
These are all facts that have been in the media. Altogether, it gives a nice portrait of who Nancy and Joey were in life, beyond the photos and words.
| | | |
| --- | --- | --- |
| | | |
| Joey and her friend Drew, 12/2006 | Nancy and Joey | Nancy, Joey and their friend Evi, 8/2007 |
Nancy Bochicchio, age 47, was from New York. Her nickname was "Titsi." According to friends and family, she did charity work and she was a child advocate. She was eulogized as being "tough with a kind heart" and as "a good spirit, who would help anyone and always saw the best in a person." She was always with Joey, as they were the best of friends. Although neighbors remember her as holding annual garage sales, her garage was filled with Joey's toys. Because of this, her SUV was always parked in the driveway.

She was a stock analyst who ran her own business in recent years. She worked very hard to put Joey through school and pay her tuition at St. Jude Catholic School in Boca Raton.
She and her ex-husband, Philip Hauser, lived in the Bensonhurst area of Brooklyn and also on Long Island in New York more than seven years ago. The couple divorced in September of 2006, but were recently in talks about getting back together.
She was always caring for Joey and never yelled or shouted at the young girl. Joey was the single-most important thing in her life and she never dated because she didn't think it'd be safe for Joey to have a man in their house. She dedicated herself to everything in Joey's life, no matter what the young girl wanted to do, and she would have done anything to protect her.
Being part of a tight-knit, Italian family, Nancy stopped putting up Christmas decorations for two years while grieving for her mom, who passed away on Easter Sunday in 2004.
She enjoyed gardening and her favorite colors were red, white and black.
She and Joey made it a point to frequent a place called Cafe D'Angelo, going there once or twice a week.
She left the living room light on all night, according to neighbors, and she and Joey went to bed every night by 8:30 P.M. in order to get plenty of sleep and wake up at 6 A.M. for work and school, respectively.



Joey Noel Bochicchio-Hauser, age 7, was born on December 17, 1999. Everyone described her in the following myriad of ways:
- Mild-Mannered
- Outgoing
- Mature beyond her years
- Sweet
- Generous
- Happy
- Smiling
- Bubbly
- Vivacious
- Happy-Go-Lucky
- Well-Spoken
- Smart

She was always nice to strangers and said hello to everybody. She was often seen by neighbors playing in her uniform in the front yard of hers and Nancy's two-story home as well as walking their dog Lindsay (who resembled the dog from Annie) with Nancy most mornings.
She took both ballet and golf lessons. She was also into being a cheerleader.
Because she hung around adults a lot, she acquired a taste for the unusual in a child, growing to love clams, oysters and mussels.

According to the principal at St. Jude Catholic School, she "had a lot of New York in her" and displayed this one memorable time in arriving to class with a do-rag on her head.
Neighbor Hank Matthews once spoke to Joey about her grandmother, whom she loved dearly, and she told him that if she continued to celebrate her grandma's birthday every year, "my grandmother will know I still love her." In the same token, JoAnn Bruno, Nancy's sister and Joey's Aunt, used to have an annual tea party with Joey on her (JoAnn's) birthday every January, and this year (2008), she placed a teddy bear in Joey's spot and still held the tea party in Joey's honor.
Joey went to Nancy's work meetings and was growing her hair long to donate it to "Locks of Love," a charity that makes wigs for cancer patients using real human hair, 10 inches or longer.
Her favorite colors were pink and purple and she loved to sing the song "This Little Light of Mine."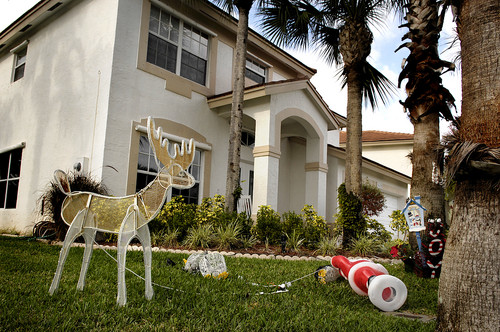 Joey and Nancy lived in a two-story home on Buttonwood Lake Drive in the Hidden Lake Community in Boca Raton for seven years. They are now buried side-by-side in Hartsdale, New York.