Who ARE These Men Using Randi's Credit Card / Card Number???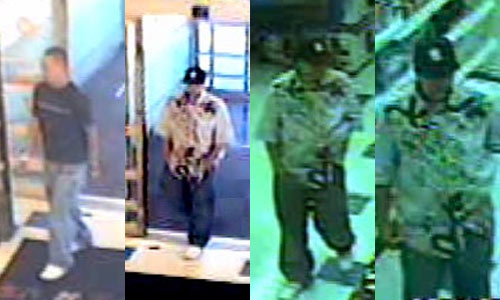 Do you know these two men?
They used Randi's stolen credit card on 8/12/08, buying food and video game systems in Connecticut and Massachusetts. Please use the links above and contact the officials with any information you might have. Thank you!
Below is the information we know about these guys:
One of the men wore blue jeans and a black T-shirt.
The other wore jeans and a multi-colored shirt with a black ball cap.
They don't know who the men are, or whether they had Gorenberg's card or had stolen clone of it.
Purchases:
1:02 pm – Two portable Playstation hand held game systems were purchased from Sears located at the Holyoke Mall, Holyoke, Massachusetts. (Map 1)
1:22 pm – A purchase of food was made in West Springfield, Massachusetts. (Map 2 - Burger King, information supplied by TV media)
2:20 pm – A Playstation 3 Game System was purchased from Toys R Us located in Newington, Connecticut. (Map 3)


MAPS


To see larger copies, click on the photos below.
Known distance facts:
From Sears to Burger King is 5 minutes.
From Burger King to Toys R Us is 45 minutes.
From Sears to Toys R Us is 50 minutes.